"Spiritual Opening" - Bali Bliss Textile Meditation Mat with fringe
$

88.00

CAD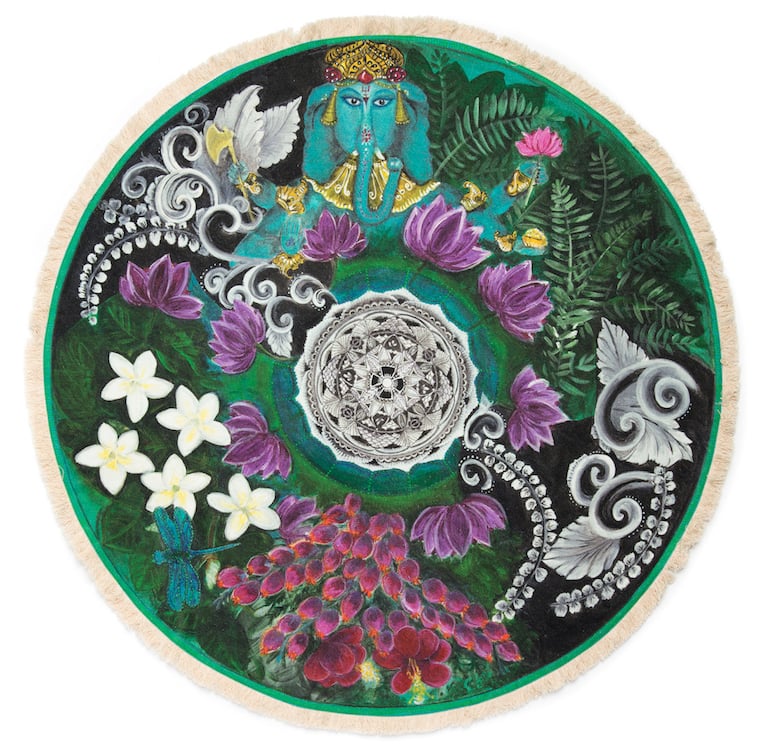 This textile mat is produced on an untreated heavy cotton and finished with a sweet cotton fringe trim. The untreated cotton allows the mat to easily fold and travel with you near or far so you never have to practice without it.
Round meditation textile mat (unpadded) with mandala centre designed to help you focus and settle into your meditation practice. This mat will help to create a sacred space wherever you are.
About this design:
This mat features Ganesha (elephant head/human body) surrounded by the lush green foliage and vibrant flowers of Bali. Ganesha is known as the remover of obstacles and when used in meditation helps clear the path to achieving a new goal or venture. Combined with a dragonfly that symbolizes change, meditating with this mat is certain to both ground and inspire you.
It's important to note that Ganesha is a Hindu god and it is not appropriate to walk on this mat. Our mats are designed to be used as tools for meditation that you would use to set your sacred space and it is recommended that this textile be placed on an elevated surface (e.g. not on the floor).
Specifications:
Rich colour and non-fade inks printed on untreated cotton canvas High quality, digitally reproduced, art print from original mixed media artwork showing intricate design details and original brush strokes.
88cm (34.5") diameter.
100% Cotton inclusive of trim. Designed in Canada, Printed in India. Dry clean only.
Item may be picked up (Vancouver, B.C.) to save on shipping costs.
Contact seller before purchasing.
Share